Imagine being in crisis with a critically ill child, forced to go to a strange city for long-term treatment – with only a cell phone, the clothes on your back, and limited finances.
iKare4Kids created a program to reduce the footprint on our environment and help support families facing technology barriers, in financial need, while on their child's difficult medical journey by repurposing 'gently used' iPads and tablets. We support families from across Canada that come to Edmonton for treatment at one of our world-renowned facilities, such as the Stollery Children's Hospital.
These iPads/tablets serve multi purposes for these families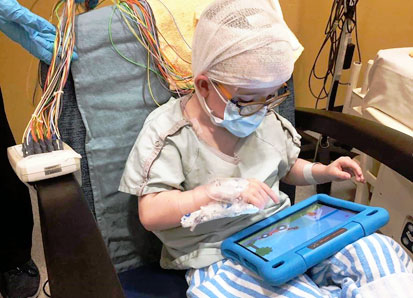 Store medical information & treatment plans.

ALLOW PARENTS/GUARDIANS TO SUBMIT billing to Family Support for Children with Disabilities.

PTSD/Trauma research and treatment while in the hospital.

Practice ongoing motor skills and rehabilitation.

Have Skype & video capabilities for communication with family members from afar.

Allow children to do online schooling lessons.

Access music and games to bring comfort and joy to the lives of these sick children as they can become bored and depressed in the hospital.

PROVIDE DISTRACTION DURING MEDICAL PROCEDURES
PROVIDE ENTERTAINMENT AND NECESSARY COMMUNICATION FOR FOLLOW-UP APPOINTMENTS FOR YEARS TO COME.
To see the absolute JOY these devices brings to these youngsters who are receiving life-saving treatment is remarkable. They can be isolated, depressed and bored while in the hospital. These children are often not afforded the privilege of a traditional classroom education and are able to utilize these devices for educational purposes.